YubiKey 5C NFC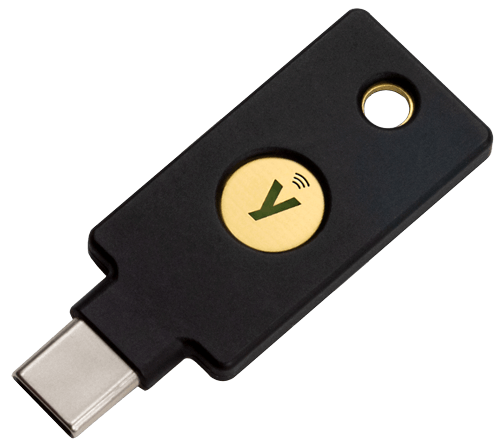 YubiKey 5C NFC
New stock is being delivered to our warehouse. Estimated delivery date:
1-10 business days
In stock
Ordered before 23:59, shipped this weekend
Ordered before 23:00, shipped the same day
Ordered before 17:30, shipped the same day
1 hour private session with a crypto expert
1 hour session with a crypto expert.
View discount bundles
View discount bundles
Do you need advice from crypto experts?
We're specialistst in the field of crypto and wallets.
Hardware wallet selection tool
This tool will advice you the best hardware wallet to fulfil your needs.
Crypto 1-on-1
A private session of one hour with a crypto expert to guide you.
Customer service
Find an answer in our FAQ's or contact our customer service.
Customers rate us a 9.3 (3784 reviews)
Customer support by experts
Product description
The use of an extra layer of account security using 2FA has increased greatly in recent years. 2FA offers you a second layer of security. The YubiKey 5C NFC allows you to use 2-FA with all your USB-C devices using a small offline device.
Securing your accounts is obviously important. Especially when money is at stake like with an exchange or wallet. Below is a list of all the exchanges where you can set up 2-FA with a YubiKey.
As mentioned above, the YubiKey 5C NFC works with (normal) USB-C devices. After you set up the 2FA, you can use NFC with your YubiKey to connect to your device and log in.
It is highly recommended to use two YubiKeys in case you lose one: one as a backup and the other for use.
You can use the YubiKey 5C NFC to secure your account on the following exchanges:
Binance
BitBay
Bitfinex
BitMEX
Bittrex
Blockchain.com
Coinbase
Cointree
DSX
Evercoin
FTX
Gemini
Kraken
STEX