Blockstream Jade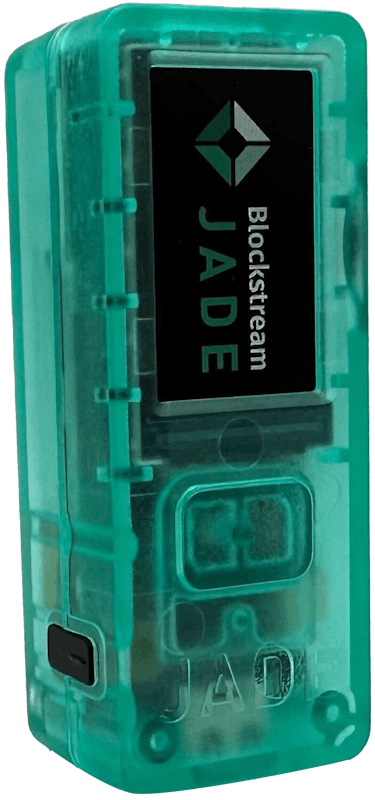 Blockstream Jade
New stock is being delivered to our warehouse. Estimated delivery date:
1-10 business days
In stock
Ordered before 23:59, shipped this weekend
Ordered before 23:00, shipped the same day
Ordered before 17:30, shipped the same day
Do you need advice from crypto experts?
We're specialistst in the field of crypto and wallets.
Hardware wallet selection tool
This tool will advice you the best hardware wallet to fulfil your needs.
Crypto 1-on-1
A private session of one hour with a crypto expert to guide you.
Customer service
Find an answer in our FAQ's or contact our customer service.
Customers rate us a 9.3 (3784 reviews)
Customer support by experts
Product description
The Blockstream Jade is an open-source hardware wallet from the American company Blocksteam. The Jade allows you to secure Bitcoins only and Liquid Bitcoins. Liquid Bitcoins are layer-2 tokens on top of the Bitcoin network.
It is a popular hardware wallet among Bitcoiners because it can only manage Bitcoins and because the software is open-source. This means that outside people can see into the security of the code and whether there are any "back doors," for example.
Which coins can be used on the Blockstream Jade?
Bitcoin and Liquid Bitcoin tokens. There are still few Liquid Bitcoin tokens. Currently, they are Bitcoin Mining Note (BMN), Infinite Fleet (EXO) and SideSwap (SSWP).
Specifications
A Blockstream Jade has the following specifications:
Depth: 17mm
Width: 24mm
Height: 60mm
Bluetooth: ja
Camera: Yes, for fully air-gapped transactions
Screen: 1.14-inch IPS LCD display, 240×135 RGB 16-bit, full colour and QR-code supported
BAttery: 240 mAh 
USB port: USB-C®
Works with
You can use the Blockstream Jade with devices running the following operating systems: Android, iOS, Windows, Linux and macOS. Blockstream has its own application called "Blockstream Green Wallet" which can be installed on all these operating systems.
The Jade can also be connected to other external wallets such as BlueWallet, Sparrow, Electrum, Specter and Nunchuk. Then you can use the interface of these applications.
Included
The following is included by default:
Blockstream Jade
USB Type-C to USB Type-A cable
Recovery sheets
Quick start guide
Blockstream sticker
Properties
Smartphone
Android and iOS
Desktop
Windows, macOS and Linux
Connecting
Bluetooth and USB-C
Supported coins
Bitcoin