CRYPTOTAG - Thor Starter kit
Official CRYPTOTAG reseller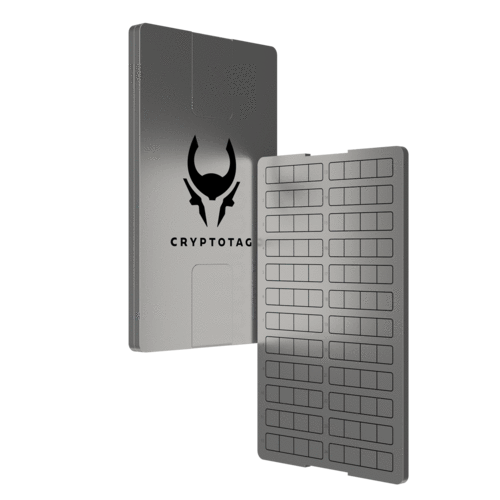 ✓ Multilingual manuals
✓ Premium customer service
Product description
The Cryptotag Thor Starter Kit is a complete kit that allows you to capture 48 words in titanium. Depending on the number of words of your private key (also called seed phrase or recovery seed), you can store 2 to 4 private keys.
The unique thing about the Thor is that you hit the letters into the titanium with a hammer. Everything you need to do this is included. Whether you have a Ledger, Trezor, CoolWallet or other hardware wallet: with the Cryptotag Thor, your private key is safe.
Why do I want to use a Cryptotag Thor?
If you write your private key on a piece of paper, your private key is not properly secured. In case of fire or water damage, you have lost your private key and have no longer access your wallet. You can lose your assets. The Cryptotag Thor can withstand these circumstances. So you can continue to access your wallet. Storing your private key online is not an option because then hackers can gain access to your wallet.
Included:
Handy storage box
2 titanium plates (2x 24 words or 4x 12 words)
Hammer
Rubber anvil
Letters (A/Z)
Letter holder 
Earplugs
Do you need more titanium plates? Check out the Thor Expansion kit here.
View our return policy