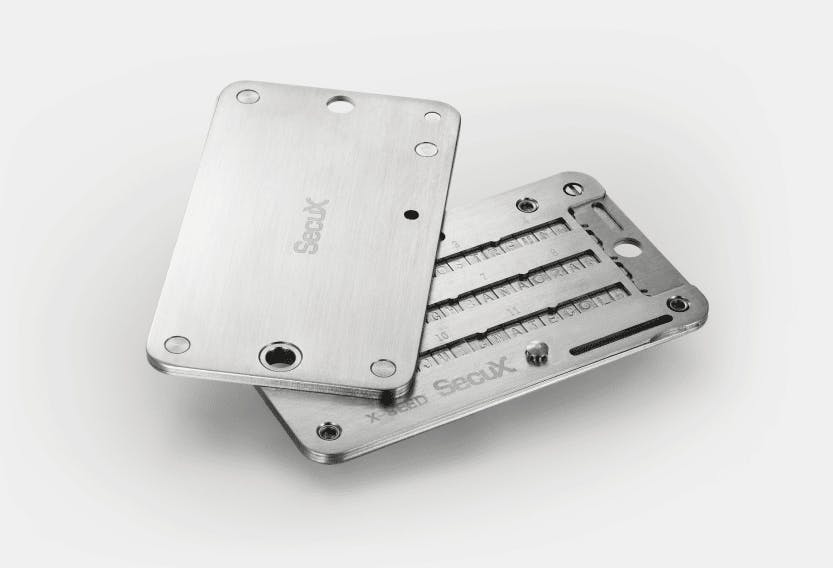 ✓ Multilingual manuals
✓ Premium customer service
Product description
With the X-Seed Pro you can store two recovery seeds, also called recovery words or seed phrase, of 24 words in metal. A recovery seed is usually 24 words, but, especially with software wallets, they are also available in 12 and 18 words.
With the recovery seed you can always gain access to your crypto in case your hardware wallet breaks down or you forget your access code. When you install your wallet, you will see the recovery seed - after that it differs per wallet if you can still access the recovery seed. It is therefore very important that you record your recovery seed correctly and securely.
A smart choice is to buy a seed-backup that secures your recovery seed in metal, making it resistant to fire and water. The X-Seed Pro offers a solution without having to engrave or hammer. Using the supplied metal letter tiles, you place your recovery seed in the storage system and then seal it. 
You also get an aluminium plate on which you can put a recovery seed. You can engrave it with the included engraving pen. In total you can store two recovery seeds with this package.
Included
In this package you get:
1x Recovery seed storage system (RVS 304, 1454°C melting point)
300+ Metal letter tiles (RVS 304, 1454°C melting point)
1x Aluminium plates (approx. 600°C melting point)
1x Engraving pen
2x Anti-fraud safety stickers
View our return policy