3x Opendime V4.0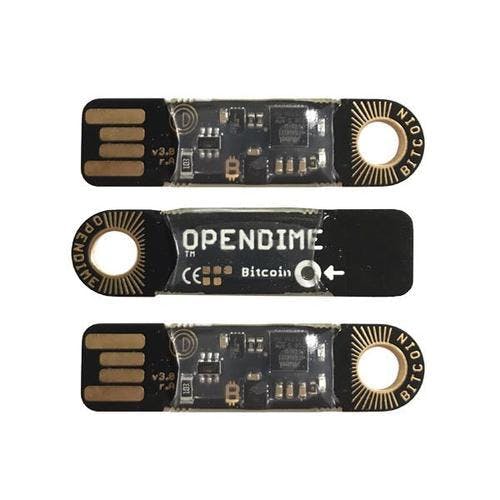 3x Opendime V4.0
New stock is being delivered to our warehouse. Estimated delivery date:
1-10 business days
In stock
Ordered before 23:59, shipped this weekend
Ordered before 23:00, shipped the same day
Ordered before 17:30, shipped the same day
Do you need advice from crypto experts?
We're specialistst in the field of crypto and wallets.
Hardware wallet selection tool
This tool will advice you the best hardware wallet to fulfil your needs.
Crypto 1-on-1
A private session of one hour with a crypto expert to guide you.
Customer service
Find an answer in our FAQ's or contact our customer service.
Customers rate us a 9.3 (3784 reviews)
Customer support by experts
Product description
Looking for a small hardware wallet? The Opendime resembles a small USB stick with which you can spend bitcoin. Fill the Opendime with bitcoins and then you can give them to others, just like a note of 5.
The public address on which the bitcoins are placed is simply visible on the blockchain, so you can always check the balance. But in order to issue the bitcoins you need the private key, which only becomes visible if you break the seal of the wallet with a hammer.
Give the bitcoins as a gift or pay someone in a confidential, physical way in bitcoins, without them having to worry that the giver can sneak off with the bitcoins.
Unique properties:
You get 3 Opendimes V4.0.
Works as a read-only USB drive. Works on any computer, laptop or phone.
After breaking the seal, the private key appears, so it is easy to check that the receiver is the only one with access to the bitcoin.
Once the seal is broken, connect the Opendime to your computer and the private key appears.
The private key is generated on the device itself and has not yet been seen by anyone, not even the manufacturer. You don't have to have an internet connection either.