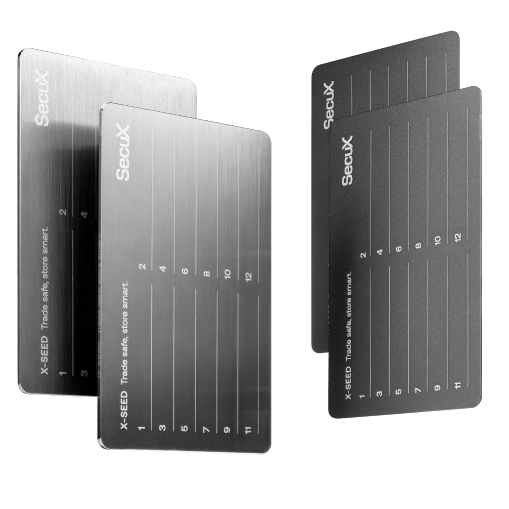 ✓ Multilingual manuals
✓ Premium customer service
Product description
The X-Seed can be used to record multiple recovery seeds in metal. A recovery seed, also called seed backup or recovery words, are obtained when creating a wallet.
These are available from online software wallets such as Metamask, but also from offline hardware wallets such as Ledger, Trezor or Secux. It is important to safely store your recovery seed, because if you lose your access code or your device breaks down, your recovery seed is the only thing that can save you from getting access to your crypto.
In this set you get two aluminium plates and two stainless steel plates. On each plate you can put 24 words. Often a recovery seed is 24 words, but seeds of 12 and 18 words also occur. This means that you can record four recovery seeds with 24 words and eight with 12 words. 
It should be noted that the engraving pen supplied works particularly well on aluminium plates. The stainless steel plates are more difficult to engrave. You can also consider going for X-Seed Plus, as it comes with a metal letter stamp that you can use to hammer the letters into the metal plates.
All in all, this is a very economical option to secure your recovery seeds.
Included
The following is included in this set:
2x Stainless steel plates (RVS 304, 1454°C melting point)
2x Aluminium plates (circa 600°C melting point)
1x Engraving pen
2x Tamper proof safety stickers
1x Plate holder
The X-Seed series also consists of the X-Seed Plus and the X-Seed Pro.
View our return policy